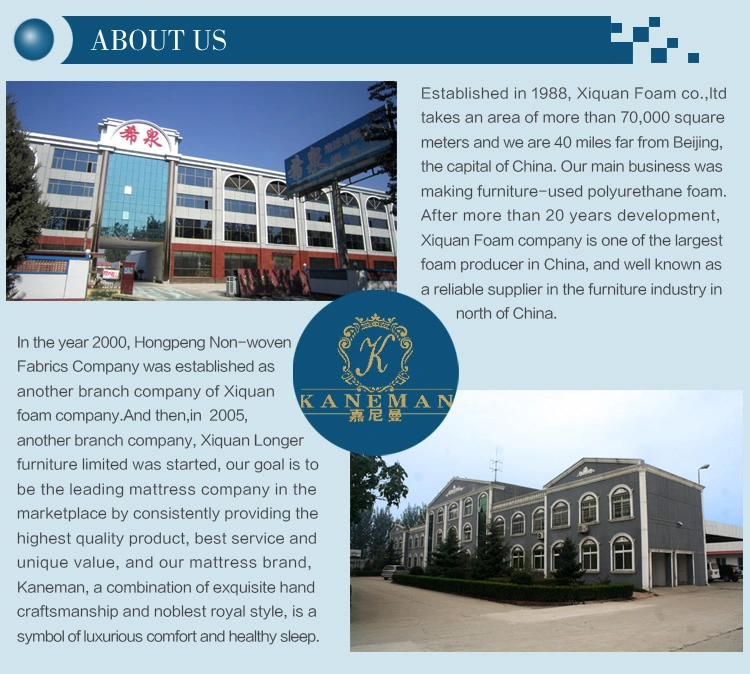 1. Product Detail Description:
Use for prison fire proof foam mattress
1). Jacquard fabric quilted with PU foam and fire insulation layer and quilting foam.
2). 8cm high resilience foam inner, body pressure relief.
3). Adjust the main part by to promote the blood circulation.
4). No radioactive without carcinogen, environmental protection material, healthy products.
5). Relief for back problems, arthritis and poor blood circulation.
6). Can be used in prison
2. Available Size:
Also available in Three Quarter 48"x75", Three Quarter Short 48"x72", California Queen 60"x84" and Super Single 48"x84".
We can also manufacture mattresses and box springs to fit antique beds, sleeper sofas, campers, boats and other special needs you may have.
Just point out the dimensions, the inner construction of the mattress and box springs
3. Advantage of Our Products:
1)We used one-stop factory production equipment. And we can also make foam, quilting, non-woven, spring...By ourselves. So, we can easy to control the quality and give you best quality and competitive price.
2)Classic, modern and unique styles to meet the need of all of you from different countries and regions.
3) Strict manufacturing and quality control management system to ensure our products meet the standards of all of you from home and abroad.
4) Good material and skillful workers to make our product with good quality and elegant looking.
5) Products can be made according to your requirements. OEM is available!
6) We give our customer a 15years warranty.
4. Polited notice:
Because of commercial secrecy, we just show some of our products on the website. Pls don't hesitate to contact us if you are interested in our products. We promise to give you best products and service.
5. Ompany Introduction
Our Company has devoted in making furniture-used polyurethane foam and providing raw materials of mattress-making for more than 15 years and always been a competent and reliable supplier of many famous furniture brands in the north of China. Recently, as nonwoven fabrics has been widely used in furniture, Xiquan Company established Hong Peng Nonwoven fabrics Co., Ltd in the year 2000, which widen our business scope and makes the relationship with our clients closer.
Having years of experience as a supplier, we now build a factory making spring and mattress. Compared to the other exporters, we have a huge database of furniture producers, whom are our foam and nonwoven fabrics users. So we are more professional in the furniture industry and more easer to find high quality goods with reasonable price.
We welcome and are always open for a business association with potential Buyers and Retailers from all over the world, and are looking forward for a long and fruitful relationship with you!
6. Certification:
CFR1633, FMVSS302, BS5852, EN597-1, EN597-2
16 CFR Part 1633 is used to evaluate the fire progression and energy output in a mattress or a mattress set when subjected to an ignition source approximate to burning bed clothes.
16 CFR Part 1633 is a federal standard in USA and all manufactured or imported mattresses and mattress sets must meet this standard.
As anti-fire mattresses are more and more required by many countries, Xiquan's R&D team are more concerned by this standard. Early in the year 2007, Xiquan Longer tested three modals of fire-retardant mattresses, including tight top mattress, pillow top mattress and euro pillow top mattress, which are commonly exported to the US market.
Xiquan Longer mattresses have several prototype exported to France and Germany subjected to EN597-1 and EN597-2.